Lessons Discovered From My Hardest Year In Business
Welcome to Think Different. If you're reading this but haven't subscribed, join 6,753 smart, curious folks by subscribing here!
---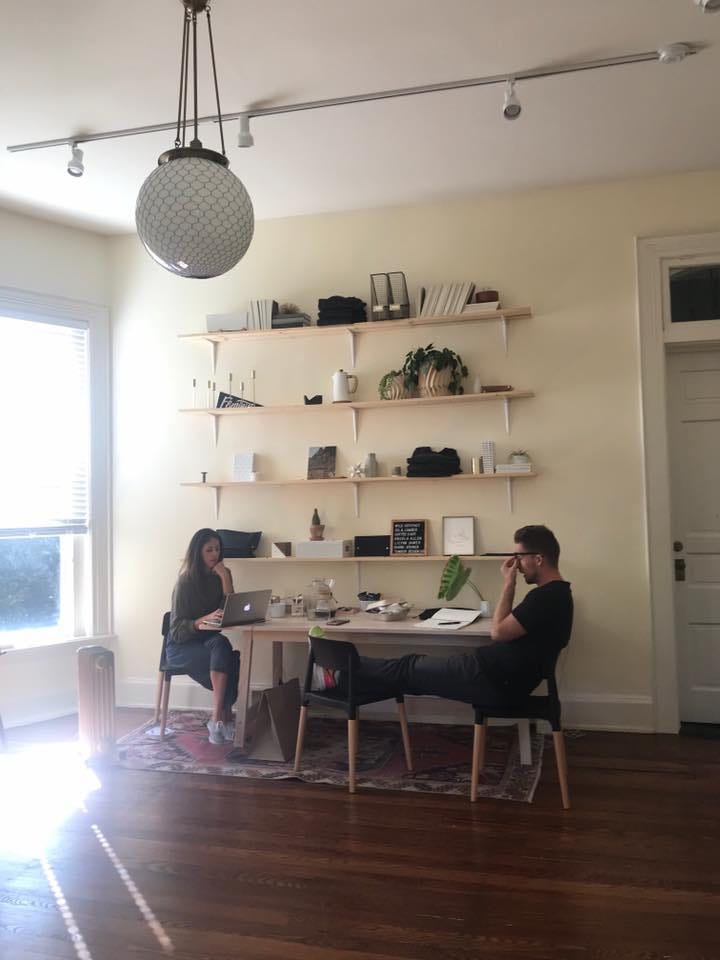 This is not a crash course in fast business growth. There are no "growth hacks," tips, tricks, or shortcuts. Sorry to disappoint, but that's not what you'll find here. 
What you will find is the story of my most painful year in business. My goal in sharing is to help you learn from my journey, and create a future for yourself that is simpler both in business and in life.
So, let's get into it.
Redefining "success" on my own terms
2018 was a big year. 
It started with a full team and a stable of over two dozen clients. It started with endless meetings throughout the week. Meetings about meetings. Endless questions and inefficiencies in our systems and processes. Every day felt like plugging leaks in the Hoover dam with my fingers (and toes). To top it off, I was out in front selling — to anyone and everyone I could. It was unsustainable and about to come crashing down…and I didn't even realize it.
Fast forward to the end of 2018. Things were different. Much different. Much simpler. Easier to manage. 2018 ended with retaining a handful of clients. I intentionally culled my team from 10 down to 2. I worked about 15 hours per week less than the beginning of the year. And I was starting to have more fun.
In short, I was on my way to building what I now call a "Simple Business." Specifically, we have a clear vision. We're clear on what we're doing. We're clear on where we're going. 
This transition from the beginning of 2018 to the end was a big change. But it was big for multiple reasons. Not only had my business changed, but my goals for it — and for myself — necessarily changed as well. When I think back to even a year ago, my motivations were totally different from what they are today.
Ever since I started Think Digital in late 2014, my goal was always to build a strong business, a business that could run itself. (Dan Sullivan calls this idea a self-managing company, and my vision was very similar.) I wanted to do this so I could sell it, have a nice payday, rinse and repeat. 
See, in addition to chasing the thrill from successfully selling a company (I had my first taste of this back in 2015 and am still savoring it), I am always trying to satisfy my creative spirit. Some people paint. Some sing. Some cook. I create businesses.
Quick aside on my first sale: They say you're not truly an entrepreneur until you've had your first exit. There's honestly nothing better than the feeling when the transfer hits your bank account. My first "exit" wasn't exactly retirement money, but it was enough to give me the bug. It's amazing to think someone was willing to pay money, serious money, for something I had developed. 
Up until very recently, I subscribed to the theory of a "one size fits all" approach to business. I'm not saying this is anyone's fault, but without even realizing it, my goal of selling businesses caused me to look at everything through a "growth" lens. GROW AT ALL COSTS. My strategy became growth for growth's sake. 
I didn't know it at the time, but this strategy rarely works out well and things were coming to a head, fast. 
When sh*t hits the fan
Things at Think Digital really started to fall apart around May 2018 when my team started to quit. Up until this point, my focus had been to build a strong core team that would be able to eventually run the business when I sold it. While this idea was great in theory, my execution couldn't have been worse and my half-baked ideas ultimately started driving away my team.
I was feeling confident in my employees' ability to run the business, so I stayed focused on the front lines, selling selling selling to anyone who would buy. And I was successful. Too successful, in fact. My team just became more and more overworked. Tension grew and grew.
I had a great team. But everyone has a limit. No matter how dedicated and hardworking you are, you can only put up with so much. I wasn't willing to stop and address the issues because that would mean the growth train would screech to a halt.
At one point, my team had grown to seven full time and two part-time staff looking after 25 different clients. Because of this, despite how hard everyone was working, we simply got to a point where the half-baked systems I had put in place could no longer keep up.
I wish I could say all the now-obvious stress fractures in the business got through to me. But it wasn't until the person I considered my most loyal employee, my "right hand," handed in her resignation that I really stopped and looked around. 
I had essentially pinned all my hopes and dreams on the success of my business. When things started to fall apart, I got super depressed. While it definitely didn't feel like it at the time, this situation was a blessing in disguise. A much-needed kick in the ass I needed to stop and think about what I was doing.
One of the first questions I started asking myself was, "why am I running my business this way?" Want to know the truth? Aside from my misguided goal of selling the business, I couldn't think of a single one. 
And that's because I had bought into this lie about what you need to do to succeed in business, and I had done it at the expense of my clients and my team.
It's not like we didn't care about our clients. We did, but we definitely could have been taking better care of them. As a result, our client churn was out of control.
 At the time, we were doing all sorts of paid digital advertising for clients (Facebook, Google, YouTube, etc.) Depending on what they wanted, some were paying us anywhere up to 7k a month. But a lot of these clients were coming in the front door and leaving out the back. Some only hanging around for a few months before they left us. Looking back, I can see it was because of the sub-par processes I rushed out into the business.
The 'aha' moment
In the end, it took a good friend of mine to take a look at the situation and ask me why I was continuing to add new clients to this mess when each new client just left my team and me feeling more and more frustrated. In truth, I was chasing the thrill you get from closing a new sale.
It didn't matter to me what happened after the sale, as long as I could keep the sales train moving, "everything will be okay." Sales cures all, right? Wrong.
So based on the advice from my friend, I took a three-step approach to get my business (and my life) back on track. 
This was right around Thanksgiving 2018, so over the holidays I got thinking really hard about how to move forward.
Step 1 was keeping a journal for two weeks and writing down everything I hated about my business. While lengthy, most of the items on my list revolved around the fact that I was working all the time. If not physically, then certainly in my head. And when I did get free time — to hang out with my wife or see my three kids — I was always frustrated.
On to Step 2. This involved finding a handful of people whose businesses I admired and either interviewing them or investigating their business strategy. One that stuck out to me was Gordon Ramsay. Yeah, he's a celebrity chef, but he's also a really smart, savvy businessman. So I took notes on how he did things.
Another was my friend Kate. She's always in a good mood. Always pumped about the work she gets to do in her business. And she's suuupper successful in what she does. 
My list ended up being much longer, but I chose people who seemed to genuinely enjoy what they do and who they did it with.
At this point, I knew what I didn't like about my business, and I knew what other respected business owners loved about their own business. The third and final step involved combining the two lists and writing out what I wanted my business to look like in a year.
Chuck what you don't like. Add in what you do like. Write it down. Make it clear. Boom! You've got yourself a vision.
This whole process probably took me about a month. But at the end of it, I walked away with a really clear picture of what I wanted from my business and what I needed to do to get it. 
Time for a change
So all of this happened to coincide with the start of 2019. "New year! New vision! New me!" Blah blah blah. But it certainly did feel like a fresh start. 
Luckily for me, throughout this whole "transition" time I still had a handful of loyal clients who I knew I could continue to deliver the high-quality service I knew I was capable of. They stuck by me and helped me through the transition. Implementing the new changes I wanted for my business meant change. And change can be scary.
One of the biggest changes I made immediately was to no longer focus on selling on the phone; it just takes too much time. And no matter how expertly I guide someone down my sales funnel, at the end of the day, some people will never be happy purchasing big-ticket items over the phone. I got things to a point where I didn't have to be physically present to make a sale.
I didn't want to have to be present to make a sale and I didn't want to have to be present to fulfill what we sold. Part of running the agency meant, even with a team, I had to be present to answer all sorts of detail-focused questions. Every day felt like Sisyphus, rolling the boulder up the hill only to have it roll back down again at the end of the day. The efforts were fruitless and exhausting.
I wanted a business that didn't "eat while I slept," to quote the great Dan Sullivan. Something that could run without me. That meant building the right systems and processes around the right business model for this to be possible. This was a big revelation for me, and one that would ultimately help the business return to its roots. 
Think Digital originally started as a consulting company. I designed and created online courses, teaching people how to set up and run things like Facebook ads, email marketing, social media marketing, etc. But I got lured away by people offering me money to run their campaigns for them. That's where things got muddy.
My first year in business was, to this day, the most profitable year. That's because, in addition to really nailing the courses and consulting aspect of the business, I was getting by with very limited staff.
It's when I allowed my vision to get muddied by the promise of more cash that I began to hire more stuff to prop up this muddy vision. 
Think of it this way: would you rather sell 100 one-time courses at $97 apiece, or sell one recurring client at $5,000 per month? While I still believe the answer can be, "both," I definitely let the dollars-and-cents make the decision for me without carefully considering the costs of said decision.
Unfortunately, when I went through my end-of-the-year visioning exercise back in 2018, I knew not all of my team would make it with the new (old) vision for my business.
 I'll say that the first thing I did before having these conversations with my team was to consult my lawyer. I really cannot stress enough the importance of a good lawyer. 
Luckily, in the end, I didn't have to make any layoffs. It was just some very candid conversations about needing to refocus roles and responsibilities. This lead to some of the team leaving… and that's OK. Even still, these were some of the hardest business decisions I have had to make in my life.
Looking back, this period in business revolved around two key principles: elimination and automation. 
Though difficult and uncomfortable, I eliminated all the noise in the form of unhelpful processes, clients, and staff that didn't necessarily share our new vision. 
Automation was in a move back to Think Digital's roots. Sticking to what we're best at and refocusing out energy on the services and products that don't require me to be physically present to sell or fulfill.
New vision, who 'dis?
Now when I explain the vision for my business, it's super simple:
To have the free time I want and need.

To have the income I want to make.

To be fulfilled in what I'm creating for the world.
It's wild to think how different this looks than it did even 18 months ago. My ideal income, in particular, has changed massively. Not just as a figure, but also how I thought about money in general. 
In the past, I would think of how much I needed to make to pay my outwardly-spreading team. Then add in the operating costs it took to support my team. Then (and only then) adding my cut on top of that. The whole thing gave me a headache.
Let me be clear: I am a huge proponent of working with and building up a team. But a team that's placed on shaky foundations, no matter how dedicated, will ultimately fail. Building a team takes a clear vision — which is the cornerstone of any successful process.
Different also is point number three: my focus on being happy with what I'm putting out into the world. This might be the biggest revelation from 2018 — mostly because so many people miss this. 
The typical rulebook of business says: provide a service where there is a need. So entrepreneurs go out and find where the needs are and then build a product/service to fill the need. Some fail. Some are successful. And some are very successful…
…but make themselves miserable in the process.
Sometimes succeeding as an entrepreneur is the absolute worst possible thing that could happen to you. Here's why…
When you succeed at something you marginally care about, you aren't taking into account one of the most important factors in business: your energy. Yes, selling and success can provide jolts of energy to light you up from victory to victory. But sooner or later, success for the sake of success leaves you feeling empty and unfulfilled.
So when you focus on creating a product or service that you're proud of, you're taking into account your passion. Yes, I said it. While building businesses only out of passion is short-sighted and myopic, you can't deny your own personal energy around what you're creating for the world.  
Now, I've turned the rule book on its head. When your focus is on creating a product you are proud of, you will create demand for it.
In my own situation, I spent a couple of months rebuilding a course structure similar to the one that helped launch Think Digital in the first place. I found myself wondering if there was a course that helped teach business owners about the sort of vision I now have for my business. It also got me thinking about what advice I would give to someone that found themselves in a similar situation to what I did in 2018.
Before you go making drastic changes as I did, take a moment to sit down and ask yourself if you can afford to lose some staff, get rid of clients you maybe don't love working with, and potentially take a pay cut too.
If you can answer that immediately, with a plan of action to secure the future of your business — you'll make it. You're clearly committed to doing whatever it takes to bring your vision of a Simple Business to life. 
On the other hand, if you need to think about it…you might now have what it take to build a Simple Business.
 It's important to remember that from the outside looking in, it's impossible to gauge the success of a business. An agency may be flush with clients, turning over a considerable profit, and the person on top may be hating every minute of it. Take it from me; you just don't know.
Don't get me wrong; building a Simple Business won't be for everyone (certainly not the Elon Musk's of the world). 
What it will do is teach you how to run a successful small to medium-sized business, and do it well, without risking your sanity or your team.