The Four Levels Of Monetization
Get Rich On Your Own Terms
Welcome to Think Different. If you're reading this but haven't subscribed, join 6,753 smart, curious folks by subscribing here!
---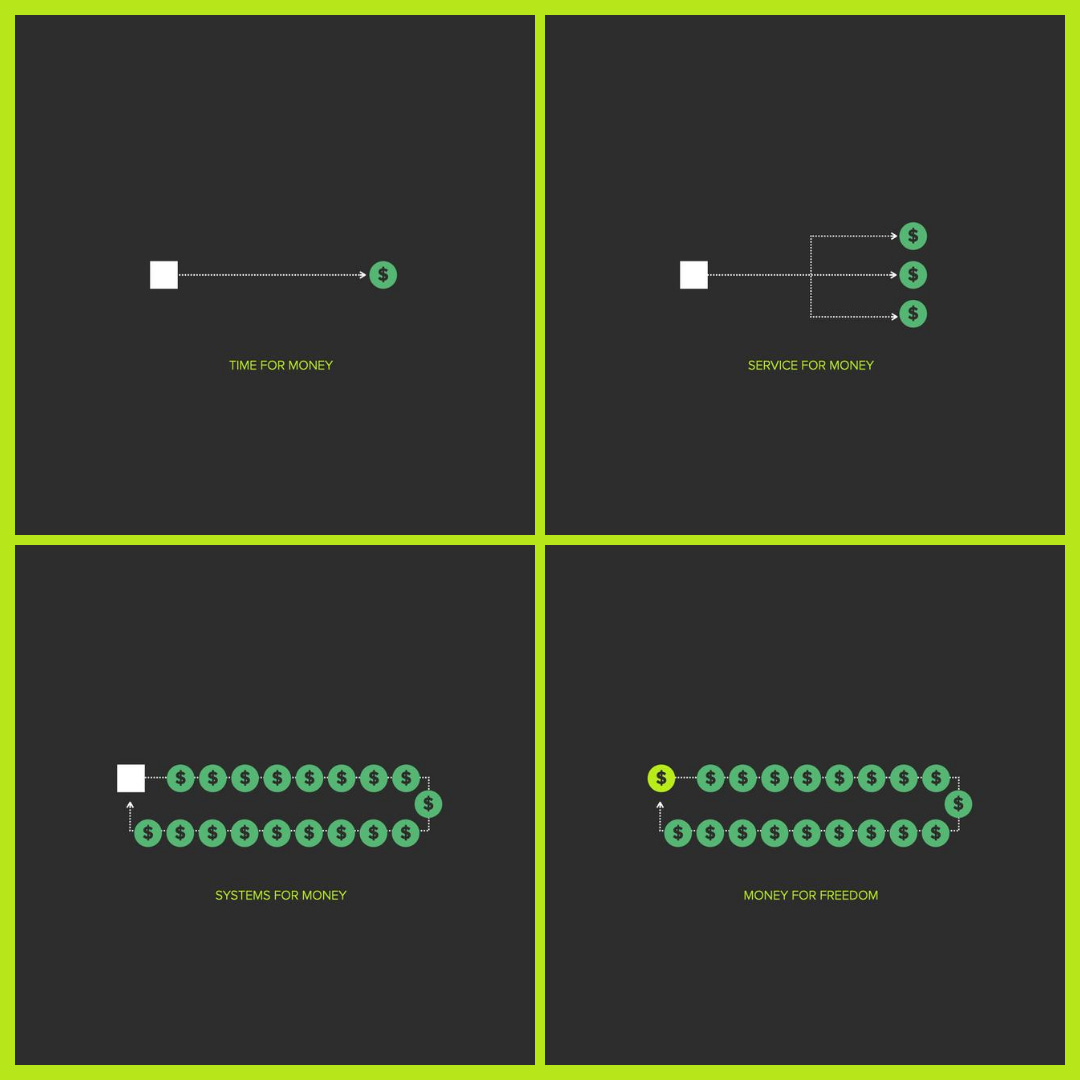 Have you hit the ceiling of complexity in your business yet?
If you haven't, you'll likely face the challenge of trying to grow the impact of your business beyond where you're at now.
Defining the "ceiling of complexity" is super simple: you hit a level of success and then the stuff you did to generate results stops working.
You can't work more hours.
You can't raise your prices.
You can't go and get more clients.
On the surface, it might seem like you're stuck.
I hit that limit when I was working 60, 70, 80 hours a week in my digital agency. We tapped out just under 7-figures. Because, frankly, that's when everything kind of exploded. I couldn't work more. I could not give more hours. I had a wife that I wanted to stay married to. I had kids growing up that I wanted to see. For that alone, things had to change.
I've identified 4 Levels of Monetization.
See if you can identify which level you're at now. Don't think too much about it. Just go with your gut.
Once you know where you're at, I want you to identify the level you'd like to be at. Again, doesn't have to be a long list of reasons. Just pick the level that resonates most with you.
Level 1: Time For Money
Everyone starts here.
You clock in. You clock out. You get a paycheck in exchange for the time spent in between the two checkpoints.
This level includes positions you'd expect:
Servers

Shift workers

Retail

Hospitality
Level 1 positions are simple to identify: If you don't show up you don't get paid.
Level 2: Service For Money
Level 2 allows the entrepreneur some leverage.
You've reduced the scope of what you sell. You're focusing on a specific service. This allows you to work with more people, which gives you more opportunities for income. 
There seems to be a revenue range where the Service For Money level peters out. That range can be $400K in revenue, all the way up to $700K in annual revenue.
Many service-oriented businesses stay in Level 2:
Lawyers

CPAs

Consultants

Coaches 
There's a natural limitation to this particular quadrant. It usually comes down to the time capacity of the entrepreneur. 
This is where the hustle mentality, the grind mentality becomes so dangerous—because it traps people. Here, entrepreneurs tell themselves to keep pushing, keep grinding, keep pounding for just a little bit longer—but nothing ever changes.
Even if you worked 24/7/365 you won't be able to move the needle past a certain point.
No amount of time management hacks are going to get you out of Level 2.
Level 3: Systems For Money
You build systems and your systems generate cash flow. 
This is the area where I think, personally, I have grown the most in the last 2 years—purely out of necessity. 
I knew that I had more in the tank. I knew my business was capable of more, and I was frustrated because I wasn't seeing it. It wasn't materializing.
It took everything failing and breaking to realize I can systemize a lot of the stuff my time and I were doing over and over. 
Level 3 is where most entrepreneurs have room for growth. 
Every hour you spend building a system frees you up to either generate cash or frees your time up to do the things you want to do. When I say "systems" I mean:
Lead generation systems (bringing in new leads automatically)

Operations systems (ensuring the business runs smoothly without your involvement)

Support & troubleshooting systems (fixing problems with you answering support emails)

Financial systems (bills getting paid, invoices getting sent out, cash coming in, etc.)
Ultimately, this is what your clients and customers are paying you for. Either directly or indirectly.
The gap between "Service For Money" and "Systems For Money" is the million-dollar gap for sure.
Money For Freedom
This level is rare air.
Not many entrepreneurs make it to this level for one reason: they don't think it's attainable. They think it's only for the uber-rich, the MBAs, the billionaire investors.
But it's not just for them. It's for you too, if you want it (and you gotta want it).
The simplest, easiest way to get started is taking a portion of your profits every month and putting it into an index fund like the S&P 500. Then your business is making money off 500 of the top businesses in the world.
I don't want you to miss the simplicity of this:
You build business systems that create cashflow, even if you're not there pushing the buttons and pulling the levers.
That cashflow creates profit.
That profit is invested in other businesses which then creates more profit for you over the long haul.
This is money making more money.
You don't have to clock in anywhere to make this model work.
You don't have to offer services.
Your systems are doing the heavy lifting.
You get to reap the benefits.
The model I've just explained is how names like Rockefeller, Bezos, Musk, and Buffett made their billions. When was the last time one of those fine folks showed up to work because they had to?
If you don't like the level you're at now, you can always change.